Cold-Formed Steel Buildings
We design, engineer, and manufacture steel buildings with two engineering approaches: welded frame and cold–formed. Cold–formed steel buildings are an alternative to our pre-engineered welded frame steel buildings. They are lightweight, bolt-screwed, easy to install, and quick to manufacture!
We mean it when we say quick. These are the current lead times for our cold–formed steel buildings: 
Quotes within 24 hours.

 

Engineering plans within 5 to 7 business days.

 

Upon releasing your building to fabrication, your building will be fabricated and shipped to your location within 4 to 6 weeks.

 
Things to consider when deciding between a cold–formed or welded frame steel building: 
The Building Frame
The primary difference between the two steel building types is the primary framing system. The primary framing system is the core framing of a building. Welded frame buildings are made with frames from steel flat bars and flat sheet pieces that are welded together. The columns and rafters are typically tapered, being narrow at the foundation and peak and wider at the rafter/column connection. 
The primary frame of a cold-formed building is made of formed G90 galvanized steel coil. The frame consists of posts (columns), rafters, and knee and apex braces. The columns and rafters are straight. The parts that make up the frame are screwed or bolted together.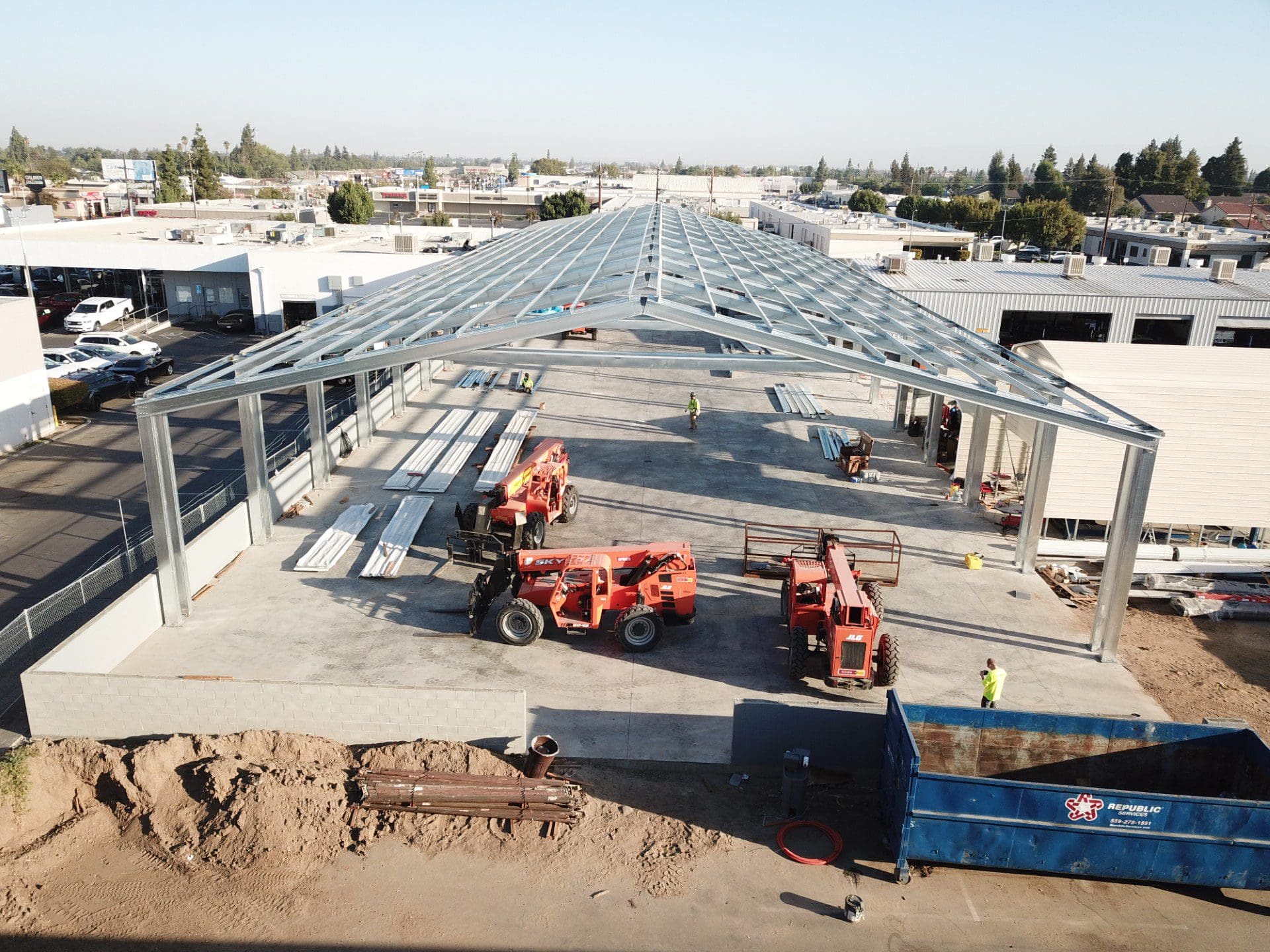 Clear Span
Cold-formed steel buildings can suit up to a 50' clear span. Clear spans of 100′ are possible with the addition of support columns. They are ideal for both domestic buildings, barn homes, and commercial projects. It is easy to add lean-tos, mezzanine floors, and overhangs.
Our welded frame buildings can be customizable to any size but start to become more economical for spans over 50'. They are ideal for very large spans, tall buildings, buildings that need cranes, large unsupported overhangs, open riding arenas, and large doors such as airplane hangars.
Foundation
Cold-formed steel buildings bolt to the foundation (slab, piers, strip) using steel base plates and drill-in anchors. Anchors are installed after the concrete is complete. Cold-formed steel building foundations typically require 20-25% less concrete than a welded frame steel building. 
Welded frame steel buildings bolt to the foundation (slab, piers, strip) using cast-in anchor bolts, which are not supplied with the building kit. Anchor bolts are installed before the concrete is poured. 
Connections
A cold-formed steel building's main frame is typically both bolted and screwed together using pre-drilled plates. Cold-formed steel buildings can require some cutting/coping and drilling of braces on site. 
A welded frame steel building's main frame is bolted together with plates already welded in place by our certified welders in our weld shop. Welded frame buildings can require some drilling on site. 
The Manufacturer
If you go cold–formed with BORGA, you will receive all of the added benefits of buying directly from an established local steel building manufacturer: 
We have buying power. This gives us the ability to quote competitively.

Access to our in-house engineering team and referrals to experienced steel building erectors.

Knowledgeable Sales Representatives and experienced Project Managers to ensure your project is a success!

Experienced fabrication team manufacturing your building in our 90,000 sq. ft. facility in Fowler, CA.

No additional price markups on your building from brokers, retailers, or resellers.

We are here for you long after your building project is complete!
We understand that there are several factors to consider when determining if a welded frame or cold-formed building is right for your project. If you would like to discuss your unique project with our team of steel-building experts, please call our Fresno branch at (559) 573-8270.